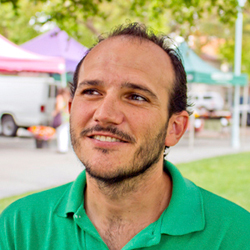 Fall produce is here!
This month we have apples, corn, winter squash, peaches, cucumbers, and more.  You'll also find local honey, fresh seafood, and tasty stuffed buns. 
Get Directions
Irvington Farmers' Market
4039 Bay St., Fremont, California
Additional Information
Street parking available on Trimboli, Bay St, and Irvington.
Please do not park at the Monument Shopping Center lot.
FARMERS AND PRODUCERS
Farm Name
City of Origin
Products
Current Markets
A. Mark Lewis Orchards

Sundays

Stockton
Cherries, Apples
Irvington Farmers' Market, Milpitas Farmers' Market
Adorable Bakery LLC

Sundays

Santa Cruz
Berryessa Farmers' Market, Divisadero Farmers' Market, Inner Sunset Farmers' Market, Irvington Farmers' Market, Milpitas Farmers' Market, Santa Teresa Farmers' Market
Avila Farms

Sundays

San Juan Bautista
Artichokes, Beets, Broccoli, Brussels Sprouts, Cabbage, Carrots, Cauliflower, Celery, Garlic, Herbs, Kale, Leeks, Lettuce, Onions, Potatoes, Cucumbers, Fennel, Kohlrabi, Peas, Herbs, Herbs, Cut Flowers, Winter Squash, Corn, Arugula, Mushrooms, Radishes, Spinach, Strawberries, Summer Squash, Tomatillos, Tomatoes
Irvington Farmers' Market
Beckmann's Bakery

Sundays

Santa Cruz
Divisadero Farmers' Market, Pleasanton Farmers' Market, Alameda Farmers' Market, Belmont Farmers' Market, College of San Mateo Farmers' Market, Irvington Farmers' Market, Brentwood Farmers' Market, Danville Farmers' Market, Evergreen Farmers' Market
Bright Farm

Sundays

Fresno
Carrots, Corn, Cucumbers, Daikon, Eggplant, Melons, Okra, Onions, Potatoes, Sweet Potatoes, Tomatoes, Watermelon, Herbs, Bok Choy, Broccoli, Cabbage, Cantaloupe, Cauliflower, Herbs, Chinese Broccoli, Winter Squash, Kale, Peas, Peanuts, Radishes, Specialty Greens, Turnips
Irvington Farmers' Market, Alameda Farmers' Market, Downtown San Leandro Farmers' Market
Bunbao Inc.

Sundays

Fremont
Alameda Farmers' Market, Belmont Farmers' Market, Danville Farmers' Market, Martinez Farmers' Market, Milpitas Farmers' Market, Pinole Farmers' Market, Vallejo Farmers' Market, Downtown San Leandro Farmers' Market, Kaiser Permanente Santa Clara Farmers' Market, 25th Avenue in San Mateo Farmers' Market, Dublin Farmers' Market, Irvington Farmers' Market, Divisadero Farmers' Market, Inner Sunset Farmers' Market, Kaiser Permanente Dublin Farmers' Market
California Bakeshop

Sundays

Redwood city
Evergreen Farmers' Market, VA Palo Alto Farmers' Market, Downtown Los Altos Farmers' Market, Alum Rock Village Farmers' Market, Irvington Farmers' Market, Creekside Farmers' Market, Kaiser Permanente Dublin Farmers' Market, Kaiser Permanente Santa Clara Farmers' Market
Caro Corn and Family

Sundays

Salinas
Irvington Farmers' Market, Kaiser Permanente Santa Clara Farmers' Market, Kaiser Permanente Dublin Farmers' Market, Santa Teresa Farmers' Market
Castellanos Farms

Sundays

Kingsburg
Oranges, Nectarines, Peaches, Apples, Cherries, Grapes, Honey, Pears, Plums, Pomegranates, Apricots, Grapefruit, Almonds, Persimmons, Lemons, Avocados, Figs, Walnuts, Citrus